The Walk to End Alzheimer's: How to Start Your Fundraising
The Alzheimer's Association is a national nonprofit organization that funds research to find a cure for Alzheimer's disease. That was very important to me when I identified a fundraiser and a way to fight back  — I want a cure. The Walk to End Alzheimer's is their signature event and it is held in more than 600 communities nationwide. Ways to get involved are listed below.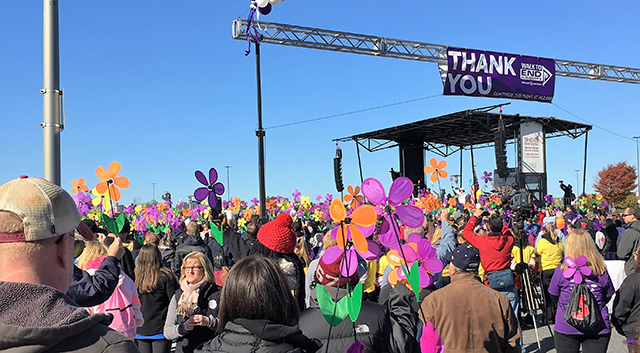 Identify your walk
Head to the Alzheimer's Association to find a Walk to End Alzheimer's event that is close to you. Type in your zip code and you will be provided with those closest to you. I attend the one in Philadelphia, but if perhaps I wasn't a person who liked to go into the city, there are other options I could attend. Choose one that works for you.
The search also displays the walk date. If you have found your walk and it has already happened, click on it anyway. Why? You can fundraise through the end of the calendar year! Although it is an amazing opportunity to be there in person, you can still contribute. Scroll down after you have clicked on the walk and identify the contact. Reach out to him or her via phone or email and ask that you be informed when registration opens for the next event and you will be good to go!
Start fundraising
Now comes the not-so-easy part: raising money. As this is my seventh walk season, I have a few tips on how to get started that are relatively painless.
Send out an email
Grab contacts from your address book, let them know you are walking, include the date and that they can either join you or contribute. Provide the appropriate link to the walk and where donations can be made.
Put a collection jar in your break room
Many companies require you to ask permission before doing this, so write your HR person with a polite ask, but I find most are OK with it. Pop it in the break room or lunch area. Leave it there for a few weeks or months leading up to the walk. I also personally put a countdown next to it 10 days from the Walk to End Alzheimer's event as a gentle reminder to anyone who "hasn't gotten to it yet."
Ask your employer to donate
Many employers have funds readily available for this, but you won't know for sure until you ask. One way to ask is to inquire whether they would be willing to match whatever funds are raised from your break-room jar, adding a level of competition.
Attend the walk
Walk day is a beautiful place to be surrounded by a community of people who all know what you are going through, whether it's caregiving, missing your loved one, or progressing through the disease. A lot can happen in and among communities like this one and the one you will discover on walk day — one day it will be a cure.
This article represents the opinions, thoughts, and experiences of the author; none of this content has been paid for by any advertiser. The AlzheimersDisease.net team does not recommend or endorse any products or treatments discussed herein. Learn more about how we maintain editorial integrity
here
.

Community Poll
Do you have an in-home professional caregiver?