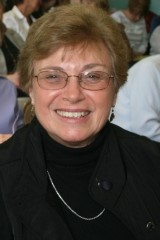 Pat was previously an advocate on AlzheimersDisease.net.
Pat is a former music educator with music degrees from Univ. of Tenn. at Chattanooga, Indiana Univ. and Univ. of Georgia.
Arriving in Ohio in 1975, Pat and her husband raised their sons in Columbus where she has continued to live since her husband's passing in 2016. Now the grandmother to four, she cherishes her time with family and with friends.
Pat and her husband were caregivers over many years for Pat's parents, each of whom suffered from different forms of dementia.
During this time Pat developed a keen interest in saving life stories, especially those of her mother. Pat's mom, the keeper of family lore, delighted in entertaining everyone with her vivid stories of childhood growing up as a farm girl in Central Virginia before and during the years of the Great Depression.
However, as her mom's memory began to fade with the onset of dementia, so did the stories. But Pat noticed her mom's memory would appear to revive as she viewed family photos.
After witnessing her mom packing framed photos in her suitcase on trips to visit Pat's brother in 2008, she seized upon the idea of building a poster of enlarged images and captions representing people, places, and events important in her mom's life that she could enjoy anytime. That idea eventually became a website, MemoriesfromMyLife.com, where any family member can create a photo poster of special memories to delight a loved one.
In 2009 Pat began writing about her caregiving experiences in what was to become an award-winning blog, MemoriesfromMyLife.wordpress.com.
Through the Memories from My Life poster site, Pat was introduced to LegacyStories.org in 2010 and became a founding member of the Advisory Team. Legacy Stories is a global project committed to preserving living history.
Her life experience both as a music educator and caregiver was then called into play in 2018 when Pat became the coordinator of the Silver Songbirds Chorus at Western Reserve Masonic Community near Cleveland, Ohio. Silver Songbirds are residents in Memory Care who rehearse on a weekly basis to present three concert programs a year.
Beginning in February of this year, music became combined with innovative storytelling as a pilot group of nine singers now share stories from their lives as they view representative photos provided by their families. With a gift provided by Ohio Arts Council, new iPads facilitate the recording of each story. Volunteers assist with the storytelling each week.
When story tellers are unable to verbalize their stories, a volunteer will pose question prompts that can be responded to with a nod or shake of the head. The plan is to expand the storytelling activity to include all 21 members of the chorus.
Click here to read all of Pat's articles on AlzheimersDisease.net.