Memoryz: An App to Aid Caregivers
Last updated: September 2021
The Editorial Team interviewed Rishawn Dindial, founder of Memoryz, a digital caregiving companion for families experiencing dementia - an Alzheimer's app!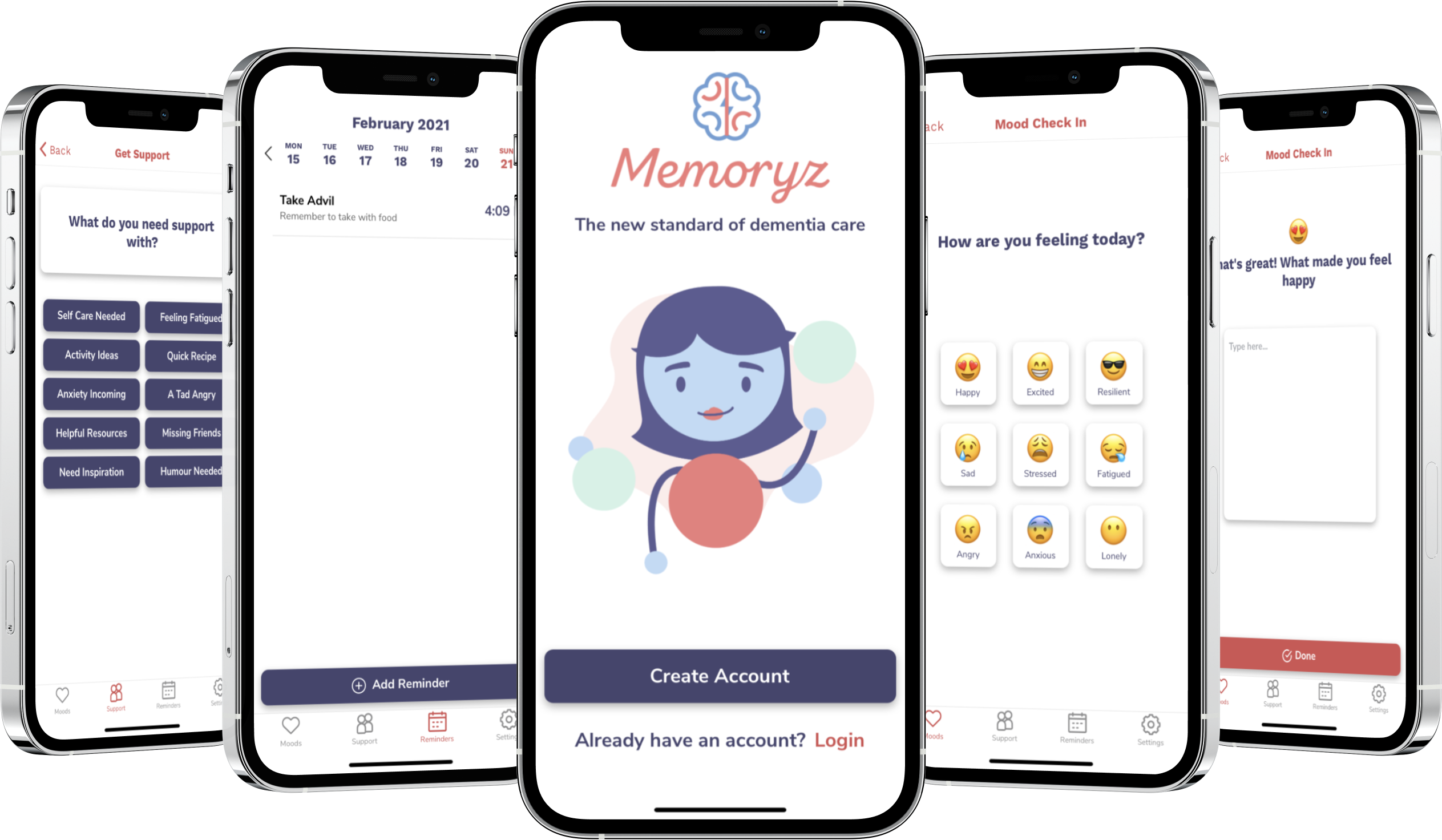 What is Memoryz?
We have built a mobile application for family and caregivers of those living with dementia. At its core, Memoryz is able to provide daily mood tracking and task reminders, and connect caregivers to a collection of anecdotal support messages from fellow caregivers. We are designed to support caregivers from the moment their family receives the diagnosis to the moment where they need us most and every day in-between.
Our goal is to provide our tool to families at the earliest sign of cognitive decline. We have built an additional app-based experience to support the family member receiving their diagnosis (the care-receiver) that connects to the caregiver application. This allows transparency in daily task completion and mood trends, enabling caregivers to provide assistance to their loved ones while at home, away, or in the office.
We designed Memoryz with the hope that it will allow all individuals, no matter their age or comfort level with technology, to benefit from our resources and have increased access to support through the digital caregiving community that we are creating. A holistic approach to health is important to us, and we make it our mission to support the self-care of the caregivers as well as their loved ones.
The Story Behind Memoryz
Editorial: How was Memoryz started? Do you have a personal connection to Alzheimer's disease?
Rishawn: Through my experiences in the technology ecosystem in Toronto, I was exposed to the incredible tenacity of those working with startups as well as the unlimited capability of mobile applications to simplify some of the most arduous tasks we are faced with. A telemedicine experience exposed me to the future of health tech, and my grandfather's plight with cognitive impairment and numerous chronic diseases inspired me to take action and create Memoryz.
Both fortunately and unfortunately, my caregiving experience was not unique, and I was able to connect with and recruit some of the most talented individuals I have ever met to begin building Memoryz, united by our experiences of caregiving and utmost desire to leverage our skills to help others in our position.
Rishawn's grandfather
My grandfather was diagnosed with mild cognitive impairment during my teen years; however, he was already living with more than 10 chronic diseases. This morbidity burden accelerated his memory decline and lent to some specific personality changes that made care both difficult and painful at times, which strained our relationship and took a toll on my mother – his primary caregiver. While my grandfather is still thriving and living independently – against our numerous requests – the experience of caregiving strengthened and weakened various aspects of our relationships.
I wanted to do more for him but did not have the experience or the knowledge. Consequently, I pursued both technology and medicine. I am now a third-year medical student and leading this company. Memoryz has been my way to provide support to others in a similar situation, and medicine has provided me the insight and clarity into my grandfather's disease necessary to approach our situation with nothing but empathy and compassion. Caregiving is oftentimes frustrating, it's not glorious, but it is necessary, and it deserves all of our collective praise and support.
Editorial: Is there anything else you would like to add?
Rishawn: Our ultimate goal is to leverage our expertise with tech to create tools that reduce the burden shouldered by family caregivers. The financial, physical, and emotional burnout linked to caregiving for someone living with dementia, coupled with the role strain created by being their family member, can be an isolating experience. We want to support these often unsung heroes in any way that we can.
I am always striving to create an application that is shaped by the feedback of caregivers and is responsive to their needs. We would love for you to download our application and let us know if you love it, hate it, or anything in-between, and we will work with you to make it fit your needs.

Community Poll
Have you or your loved one been diagnosed with Mild cognitive impairment?