Running with Cat: A Journey with Early-Onset Alzheimer's
Last updated: January 2022
Recently AlzheimersDisease.net spoke with Tony about his experience running the world with his partner, Cat, who is living with early-onset Alzheimer's disease. Tony and Cat share their story of resilience and perseverance against all odds.
Catherine and I met at a small race in Louisville, Kentucky. I overheard her talking about her goal to run a marathon in all 50 states. I convinced her to train me for my first marathon in 2000 in New York, where I grew up. I had always wanted to run that race.
Since then she has completed a marathon in all 50 states with a total of 83 marathons - I have only done 68.
Becoming nomads
When was Cat diagnosed with Alzheimer's? What were your initial thoughts and feelings after receiving her diagnosis? How did this diagnosis change things for you and your family?
Catherine was diagnosed in 2014 with early-onset Alzheimer's or a like condition at the age of 53. I had open-heart surgery to replace my leaky aortic valve 2 months after her diagnosis and we both ran the Berlin Marathon 3 months later at the age of 59.
We are both endurance athletes, so we decided to combine our passion for running and love for travel. We had some races on our schedule. We both retired sold our home and have been nomads running marathons and half marathons ever since.
The plan was to find someplace to live but instead, we have been like Goldilocks still trying to find the perfect place to settle down. Her daughter is grown and so are my 3 kids. We make a point to include stops to see them in between trips. We have visited over 80 countries and run at least a half marathon in 35 of them on all 7 continents.
Tackling Alzheimer's as a team
Who came up with this idea to sell everything and start this journey running literally all over the world? How long have you been doing this? What has the experience been like so far?
I was a pilot/manager for 37 years, the last 27 at UPS, so logistics is my forte. I love all aspects of travel so you can say this counterintuitive lifestyle was mostly my idea.
I did not want to leave her home alone to fend for herself so I decided to tackle her diagnosis as a team effort. We incorporate all the things research has proven to be good for the brain. Intensive exercise, socialization, experiencing new and exciting things coupled with plenty of sleep and proper diet.
Cat's running history
What should everyone know about Cat? What do you hope other's take away from your story?
Catherine used marathoning in her 30's to stabilize her footing after she lost her husband. She once again turned to that activity when diagnosed with early-onset Alzheimer's. She dusted off her goal of completing a marathon in all 50 states and achieved that goal this time last year even in the throes of a global pandemic.
Goal setting has proven to be her cornerstone and now we are closing in on running a half marathon in all 50 states. Our book, Running All Over the World, Our Race Against Early-Onset Alzheimer's gives readers a day-to-day look at what it means to have nothing but what's in your suitcase.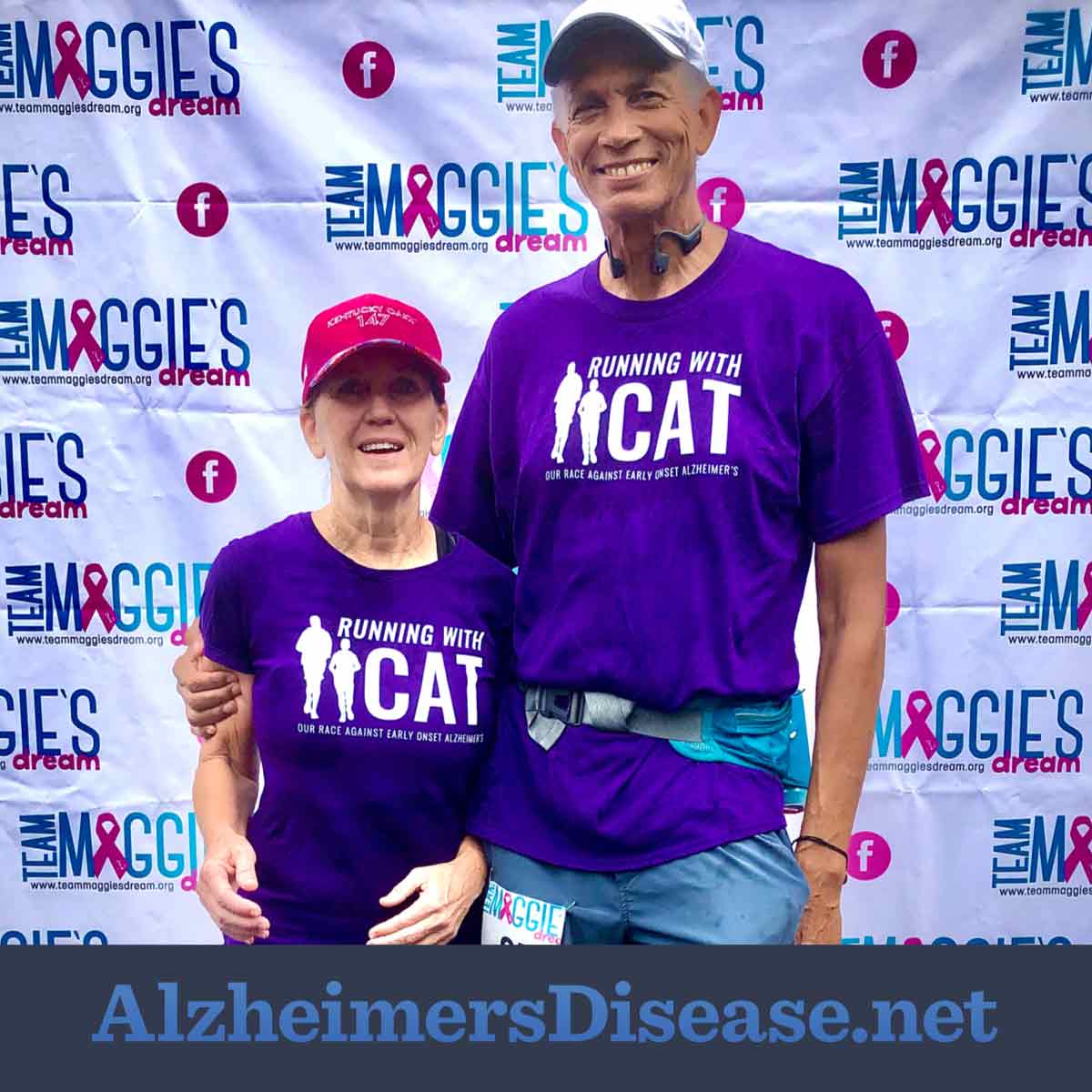 During our years as nomads, we pushed our physical and mental limitations as often as we could - and we finished every race we ran hand-in-hand.
Our story with early-onset Alzheimer's
I hope our story will give others the inspiration to always look for joy in life. Instead of focusing on the challenges of early-onset Alzheimer's, we challenge ourselves with goals. Thus, we focus on the quality of life and do not dwell on the quantity of life.
We just returned from our first running event in 2 years overseas. We toured Berlin to commemorate our 7 year anniversary of the Berlin Marathon and ran the Lock Ness 10K in Inverness, Scotland a week later.
You can read more about Tony and Cat at RunningwithCat.com.

Community Poll
Are you a male caregiver to a loved one with Alzheimer's disease?