Interview With Steven Barbieri: Diagnosed With Early-Onset Dementia at 51
Last updated: February 2023
For this article, we interviewed Steven Barbieri. Steven is an AlzheimersDisease.net community member who is sharing what it is like to be diagnosed with chronic traumatic encephalopathy dementia at age 51. Steven was 60 at the time of this interview.
The beginning
I used to have problems with my wife Tracy. We used to fight from time to time over things, but they seemed to all revolve around her telling me something and me not doing it. Sounds like a normal husband, right?
My wife Tracy was a schoolteacher. One morning she asked me if I was going to be in town for work and if I could pick our girls up from school. Well, later that afternoon she gets a call from the school. The girls were not picked up from school. Tracy calls me very upset. I tell her I'm in Fresno today for a meeting and there is no way I could pick them up. We fought about the fact that we talked about it this morning and why I didn't tell her that I was going to Fresno today. And of course my answer was "You never asked me to pick up the girls from school." Tracy was fed up with all the misunderstandings we were having and said she's going to have my hearing tested. Well, she did, and during the hearing test, I kept asking the person to repeat what they wanted me to do and was acting very slow to follow the directions. The doctor referred me back to my doctor with a recommendation to see a neurologist.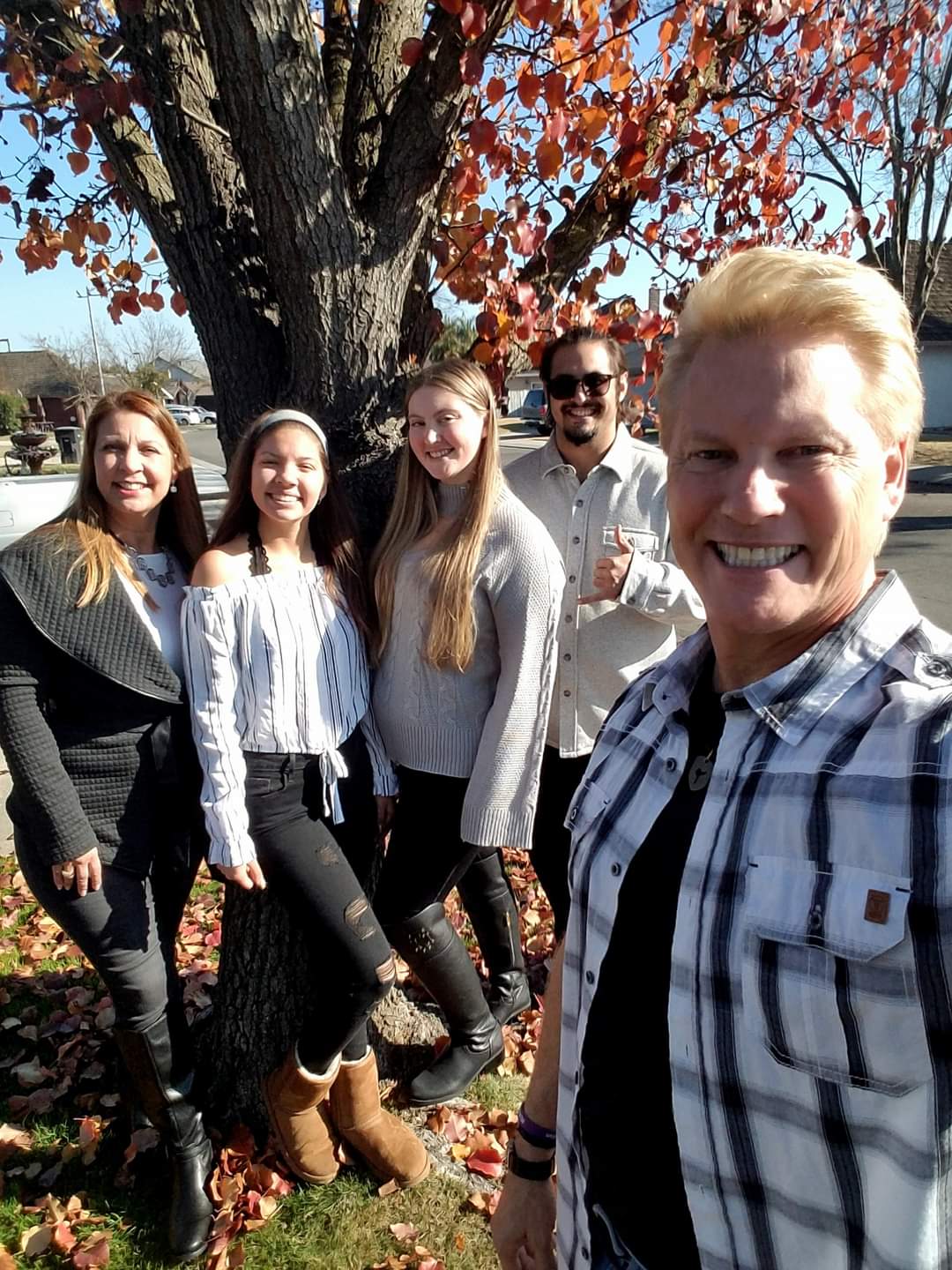 Steven and his wife Tracy, along with their 3 children: Grace, Brittany, and Steven.
Differing diagnoses
Editorial: How has your life changed since being diagnosed with Alzheimer's disease?
Steven: I was first diagnosed with mild cognitive impairment (MCI), then pseudodementia, then, after a PET Scan, where they found damage on my frontal temporal lobe, it was changed to frontotemporal dementia (FTD). Then finally, I was sent for an 8-hour test and someone asked about my lifestyle – what I like and dislike and what I do for fun. I have 40-plus years of old school martial arts and several head injuries. Someone finally knew me. My diagnosis was changed to probable chronic traumatic encephalopathy (CTE) dementia.
Support
Editorial: Do you experience stigma when you tell people about your Alzheimer's diagnosis?
Steven: Yes I experience stigma when I tell people about my condition. They say, "I have memory problems, too," or, "That happens to me all the time."
Editorial: Do you feel well supported by your doctors and family?
Steven: I didn't feel supported by my doctor at first because she was just saying I had dementia. I was not informed enough to ask what type of dementia I had until I did some of my own research. It's important to ask what type of dementia you have; they are not all the same.
What others should know
Editorial: What do you want other people diagnosed with Alzheimer's to know?
Steven: There is life after a diagnosis. Quality of life is still very important. Don't put your life on hold. I hit the fast-forward button. The best time to do something for me is NOW. Get busy living or get busy dying. Still do what you love to do. Maybe make some changes, but still enjoy what you love to do. It's just a change of life, not the end of life. Don't stop, just adjust.
Editorial: What should caregivers know?
Steven: That I am still here. Don't make decisions without me. ASK ME!
Editorial: Is there anything that you would like to add?
Steven: Yes, I have dementia, but dementia doesn't have ME. This is just my new normal. Read and educate yourself about your type of dementia, so you know better what to expect and what questions to ask your doctor. And write your questions down before your doctor appointment, and make sure that before you leave all of your questions are answered.
Share your story with others, and remember to ask them about their story too. Sad to say, but most people have a story to share about the dementia of a family member or close friend.
Steven uses the hashtag #LivingStrongWithDementia on social media.

Community Poll
Which of the following topics resonate with you the most?