Walking for a Cause: Raising Alzheimer's Awareness
As fall rolls around you will be seeing more ads and media content about the Walk To End Alzheimer's, commonly referred to as just the Walk, sponsored by the Alzheimer's Association. My family and I have been involved with this walk for about 17 years. In that time, we have raised over $75,000 to help build "a world without Alzheimer's."
When we first started walking our team was small
Mainly family and a few close friends. We didn't have a Walk to End Alzheimer's in our town so we drove to Atlanta to be a part of the Atlanta chapter walk. It was humbling knowing all those people were there to help those of us living with Alzheimer's. This was a large community that had one thing in common - Alzheimer's disease.
Each year, the Walk to End Alzheimer's has expanded. We now have a Walk in our town and I have been involved in making that day happen. In recent years, I have had to reduce my participation in the planning committee meetings because it gets overwhelming for me. I try to keep my hand in it because it means so much to me. The main focus of the Walk is to help bring awareness to the disease and to raise funds for research and helping families cope.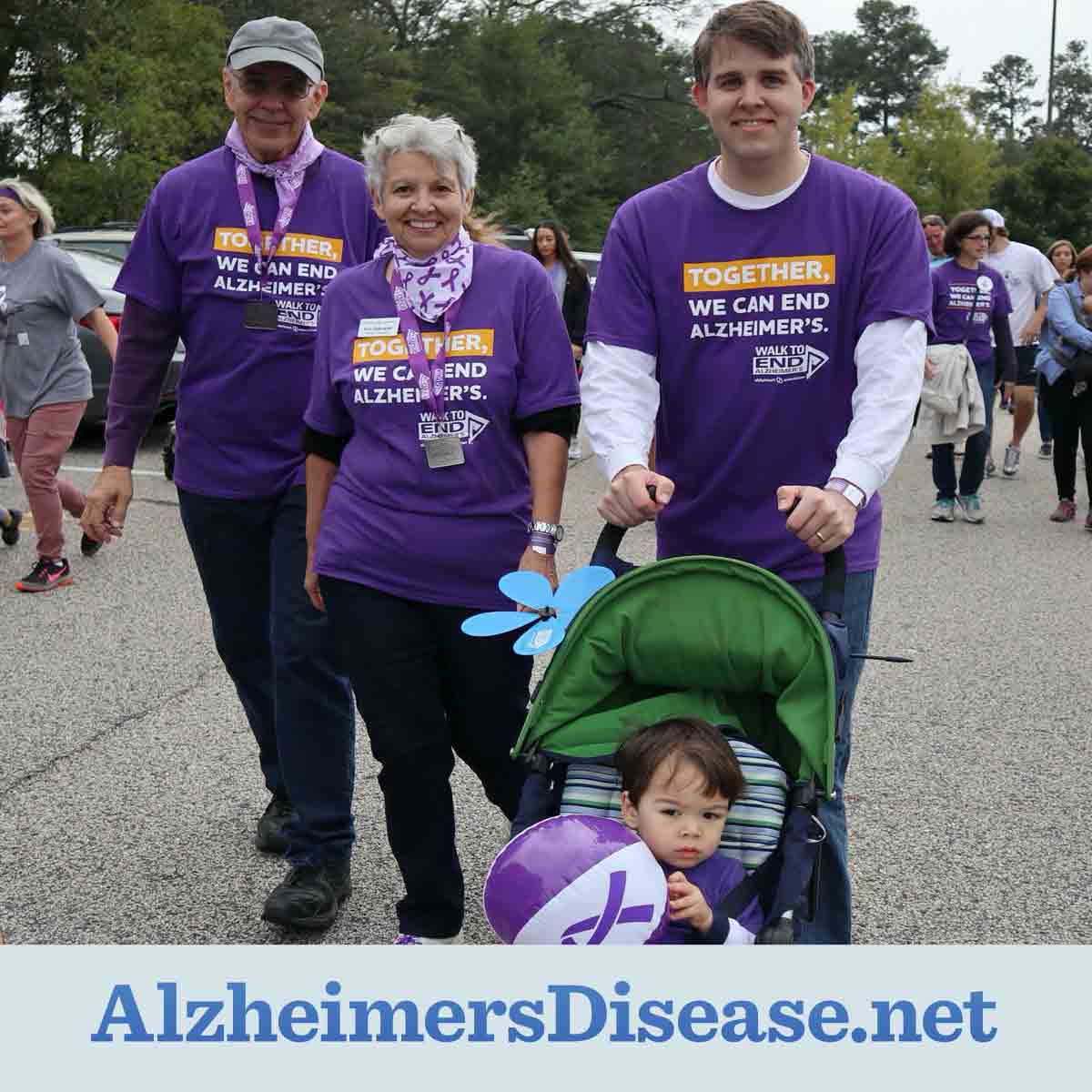 Open hearts
We have a very hard-working committee but our Walk can not be successful without all the people walking to help us raise much-needed funds. Raising money is a daunting task for many. It was hard for me in the beginning as well. My team has grown to almost 40 people every year. Some ask friends for money, others open their wallets. More importantly, they open their hearts to me and the cause of Alzheimer's disease.
Who does dementia affect? Everybody.
It is now common for people in my age range (mid 60's) to know of at least someone dealing with dementia. People want to help, you just need to give them a little nudge.
Purple is the awareness color for Alzheimer's. I wear my purple Walk shirts all the time. It can start a conversation all on its own. People start asking me questions, they tell me stories and then they tell me their personal experience with the disease. It is heart-wrenching to hear. It is heart-wrenching to live.
Raising Alzheimer's awareness year round
By wearing my shirt all the time, I am working on the Walk all year round. Some of my friends do the same to help me spread the word. My team members can get very creative about raising money.
One individual keeps track of the coupons she uses at the grocery store. Every time she comes home she writes down how much she saved at the grocery. At the end of the year, she adds all those numbers together and writes a check to the Alzheimer's Association in that amount.
Another friend of mine loves to bake. She bakes goodies for her church friends all the time. She takes notes on what their favorite items are and once a month she has a private "bake sale" in which she asks her friends for a donation for their favorite goodies to go directly to fundraising for the Walk.
Please say thank you
If you see someone walking around with a purple Walk to End Alzheimer's shirt, please say thank you to them for all they are doing. Together, we can make a difference. Do you plan to participate in the Walk to End Alzheimer's? Tell us in the comments below, or share your story with the community.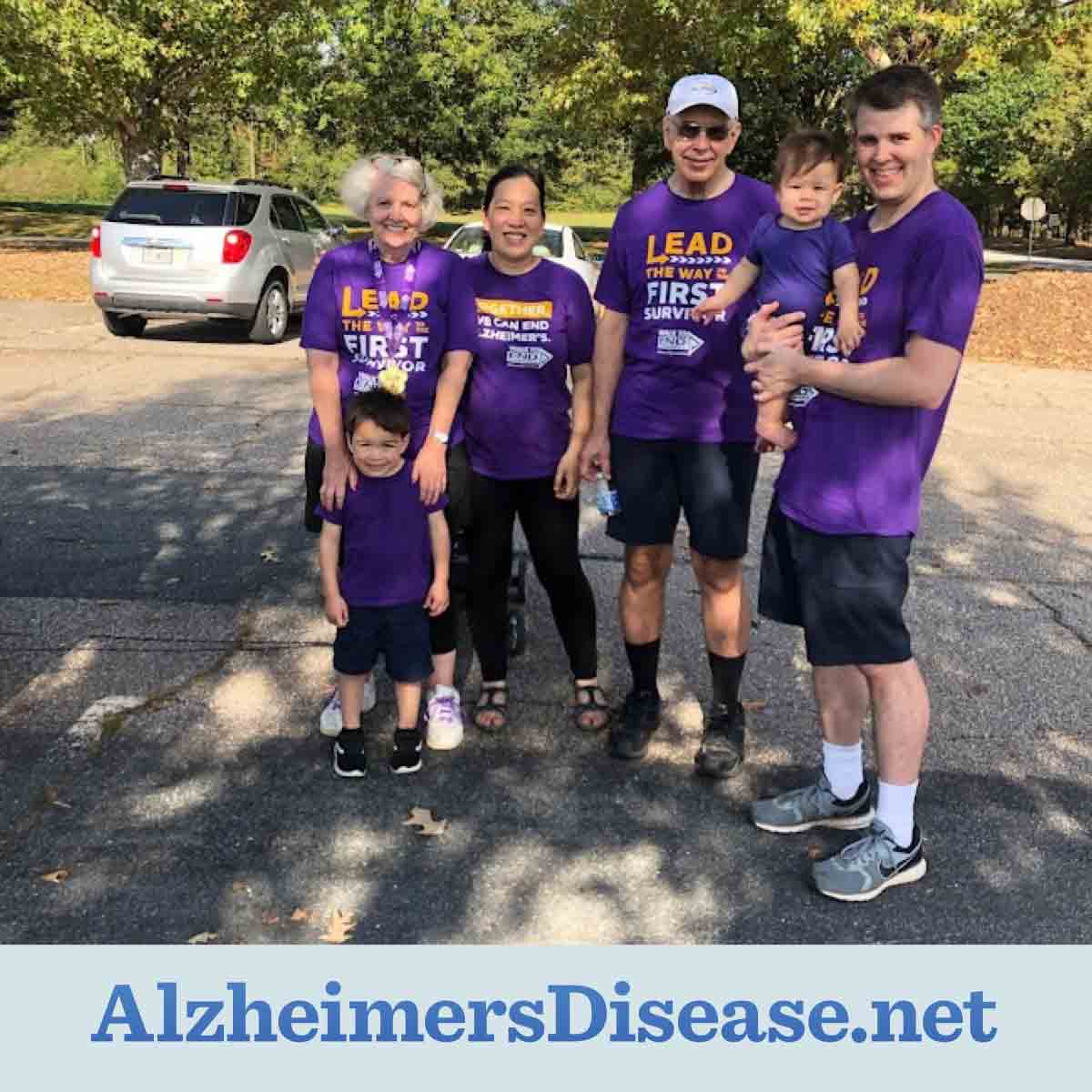 This article represents the opinions, thoughts, and experiences of the author; none of this content has been paid for by any advertiser. The AlzheimersDisease.net team does not recommend or endorse any products or treatments discussed herein. Learn more about how we maintain editorial integrity
here
.

Community Poll
Do you have an in-home professional caregiver?