Remembering, Honoring, Advocating
So, a few days ago I had one of those days. You know the kind. I was extra emotional, and all I wanted to do was cry. I wasn't sick. There wasn't anything specifically wrong. It was just a tough day. In the middle of the day I thought about Daddy. That surely didn't help. I was one of Daddy's caregivers after his stroke and the onset of dementia. His battle with his mind and body ended a few years ago. I felt like I was battling my own that day.
Today, I could use a hug from my dad
Right in the middle of my minor breakdown, I thought to myself, "I sure could use a 'Love you, baby' and a hug from Daddy." Now, we are not a super affectionate sort. My ancestors packed their stiff upper lips  and stoic demeanor in their steamer trunks before they made their treks across the pond. Those things arrived in the states in tact, and those heirlooms were passed down for generations.
All these years later, we're still not a huggy kind of family. It's just how we are. No one doubts our love for each other, but it's not something we say a lot. Daddy was a bit of an exception. For a very tough guy, he was a little softer in that area, and that day I really could have used the exception.
A message I needed to hear
A couple of days later, I was searching high and low for a single document. I searched through files that contained years worth of tax papers, my social security card, and mountains of other papers. You know that kind of thing is always in the absolute last place you look. I cracked open two trunks I keep in my bedroom.
In the second, I found a cache of photographs I had long since forgotten about. Most of them were at least fifteen years old. There he was. Photos of Daddy holding his grandkids, beaming at birthday parties, unwrapping Christmas presents. In the absolute last corner of the trunk wasn't the paper I was looking for, but was the paper I needed. In black ink on an old envelope was "Amy, I love you, Daddy" in his handwriting. I needed that, and somehow he delivered.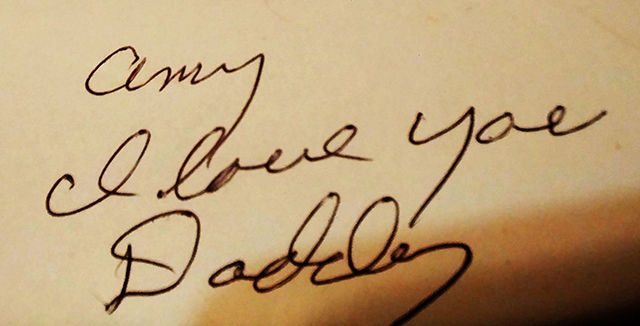 Dad is everywhere rather than anchored in one spot
He's been gone for more than three years. He's never really gone, though. He shows up in countless ways. He's in the funny stories we constantly tell. He's still in this house and on this land. He's in the sun that gets in my eyes in the pasture. His fingerprints are still on every tool we pick up in the shed. He's everywhere instead anchored in one spot. I just have to remember to slow down to see, hear, and feel him here with us.
Grief never goes away either. Not really. It doesn't get easy. However, there is something we can do as the survivors of those we have lost. We can spread the love we were given by them. We can honor them by advocating for those who are struggling with dementia and Alzheimer's disease. We can share our experiences and what worked for us. We can comfort those who are grieving. We can keep our loved ones' memories alive by telling their stories and expressing the importance they had in our lives.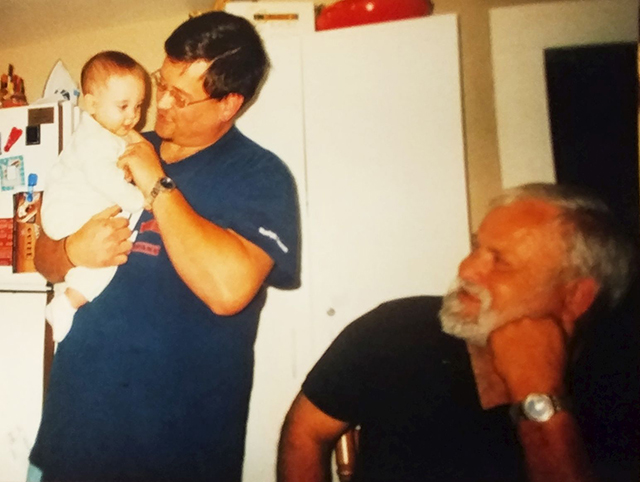 "Only you will have stars that can laugh"
Antoine de Saint-Exupéry wrote the following quote in The Little Prince: "You - you alone will have stars as no one else has them... In one of the stars I shall be living. In one of them I shall be laughing. And so it will be as if all the stars will be laughing when you look at the sky at night...You, only you, will have stars that can laugh!"
No one knows exactly what happens after a heartbeat stops. I don't know if Daddy really is some laughing star in the after life, but it wouldn't surprise me. He was definitely one here on Earth. That I'm sure of, and that's the part I need to keep remembering.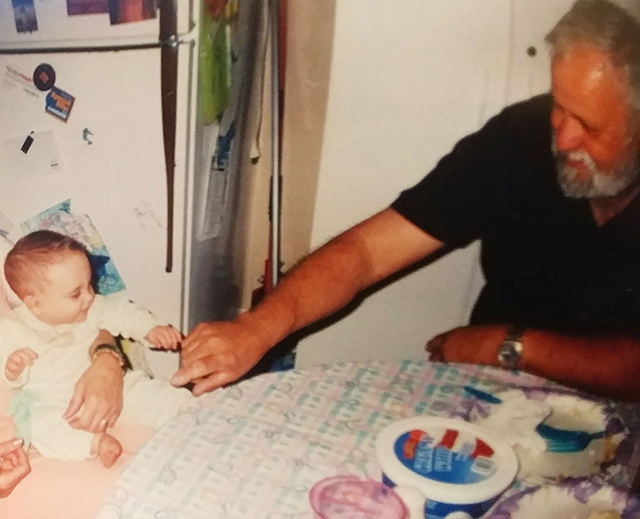 This article represents the opinions, thoughts, and experiences of the author; none of this content has been paid for by any advertiser. The AlzheimersDisease.net team does not recommend or endorse any products or treatments discussed herein. Learn more about how we maintain editorial integrity
here
.

Community Poll
Do you have any caregiving tips that could help the community?