Time Spent Together is Priceless
The changes were subtle at first and progressed to more forgetfulness over time. Things that used to come relatively easy for our father were now tricky, and this caused frustration. As a man of patience, this was hard to observe. I knew the disease would get the best of him, so I ensured he got the best of me in every conversation, phone call, walk, visit, and trip.
I was with him at that moment and time
We enjoyed walks, and as we made our way on sidewalk paths, we held hands. He challenged me to play Connect Four and sing along to Johnny Cash tunes. As we took drives, he would reminisce and be able to recall minute details of his life experiences. I would listen and take detailed notes of his memories in my journal. Most of what he spoke about in his last year was his childhood and family, and while doing so, I learned about people, places, and things I never heard of before.
He'd ask me if I remembered his dog Boots and how his brother played tricks on him. He'd point to his six-year-old self photograph where he held his tin lunch pail and say, "My mother put pancakes in there for me." He took me back to the sawmill and lumber yard, where logs were ready for sawing and barn materials prepared for building. He would look at me, smile, and say, "Remember, you were there." I was with him at that moment and time, offering him care, comfort, and love.
Cherishing the memories
What amazed me most during his battle with Alzheimer's was that he could still use his handheld phone to make calls. In his call registry were repeated calls to his three daughters and wife. If we could not pick up his call, he'd leave a voice mail and happily say, often singing a fancy tune, "Where are you? "Im waiting for you." And "Call me back." I loved being able to return his calls. To hear his voice greet me with such joy was priceless. I long to listen to it again. I'm grateful that, at this time, my memory can replay it.
During our time together, I thought about the range of activities I used to implement with my early childhood students. As our father's attention span, memory, and charisma, regressed, his attempts to conduct daily tasks became weaker and more complex. During my visits, I brought materials that allowed us to use our hands and create. While he was mainly happy to participate, I could sense when he was uncomfortable with a simple project, or it wasn't as interesting. No matter the mood, I cherished our visits because each was a new adventure.
Some of Dad's favorites included mixing ingredients like flour and sugar to prepare blueberry buckle, pressing cookie cutters into sugar cookie dough, and tasting our sweet reward. Dad enjoyed exploring with stamps and ink and tossing a soft, large ball while securely seated in a chair. We'd enjoy singing familiar children's songs, especially Old McDonald Had A Farm and Five Little Ducks Went Out to Play. Dad and I loved looking through his abundance of photo albums that he added to, marked, and cherished. He often chose photos to share with others and had me add them to envelopes and frames. He would look to me as to whom we should share it with, and as I suggested a name, he would say, "That's nice. You do that."
His most exceptional qualities
Our father's kindness was one of his most exceptional qualities. A quality trait he passed on to his daughters. Besides being highly intelligent, supportive, caring, and loving, he'd be proud to know that his daughters try their best to offer the world the same.
As you spend time with a loved one battling Alzheimer's disease or any other type of debilitating illness, be patient with yourself and your loved ones. While patience is not always easy, you are capable, confident, and can do it. During my time with Dad, I realized that each day would differ. As the weeks leading up to his passing became sadder and more mentally draining, that didn't stop us from spending time with and caring for and loving him immensely. As the days and weeks drew to a close, we took comfort in knowing that each day with our father was well spent and that our memories of him would bring us something to cherish forever.
Nancy, May 22, 2023©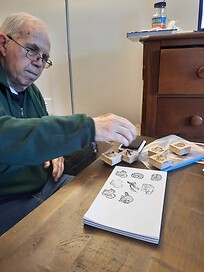 This is our story.
Help others feel a little less alone.
This article represents the opinions, thoughts, and experiences of the author; none of this content has been paid for by any advertiser. The AlzheimersDisease.net team does not recommend or endorse any products or treatments discussed herein. Learn more about how we maintain editorial integrity
here
.

Community Poll
Have you or your loved one been diagnosed with Mild cognitive impairment?