Pam Farina
Last updated: February 2023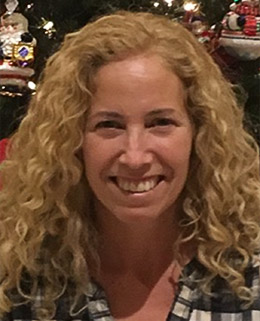 Pam was previously a health leader on AlzheimersDisease.net.
Pam was a busy, working, single, mother of three in 2012 when her mother, Jewel, first began to display the symptoms of what would eventually be diagnosed as Alzheimer's. Jewel was 76; a devoted and loving mother and grandmother who was the glue that held her family together with grace. Pam's father, John, was 81 and beginning to have health problems of his own. As Jewel's symptoms progressed and became more difficult to manage, Pam gradually assumed the role of Jewel's primary caregiver. A seven-year journey through Alzheimer's began, one that would change them all. A journey through the many difficult, progressive stages of the disease. This included many Doctor's office visits, hospital stays, physical and emotional changes, home health care, hospice, financial issues, and insurance challenges.
Although Jewel passed away in March of 2019, Pam's journey has not ended. She hopes to honor and express her love for her mother through her work and writing. She is still learning and helping others through the process sharing whatever experiences her family had that might help.
Pam has become a passionate advocate for Alzheimer's research, using her experience as a caregiver to help and encourage others. She firmly believes in the power of community, education, and support to empower and guide Alzheimer's patients, their caregivers, and their family. Pam is an advocate with the Alzheimer's Association of Connecticut, involved in fundraising, and involved in the Walk to End Alzheimer's. Pam is also a member of the Alzheimer's Impact Movement.
Pam lives in Connecticut with her three children, father, and fiance Chris. She loves spending time with her family and friends, going to the beach, traveling, learning about new destinations - anything Disney related and Italian food!
Click here to read all of Pam's articles on AlzheimersDisease.net.