Daddy & Layla: The Importance of Pet Visits
We are country folks. I grew up much like my dad in rural areas surrounded by vast fields of cattle, soybeans, corn, and cotton. We joke that as children we didn't know we were allowed indoors during daylight hours. We ran and played and fished every day. As a child, I never padded across worn trails through the woods without being accompanied by a dog or two. That's how my family has lived for my 38 years, and I know that's how they lived long before I was here. We've always had pets from fish to foul to reptiles to an array of farm animals. Dogs, however, were most common, most affectionate, and most often became like members of the family.
Alzheimer's turned our world upside down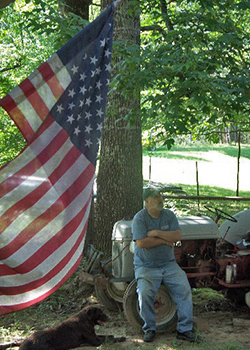 We often talk about the effects that Alzheimer's disease and dementia have on individuals and their families. We speak about how relationships are strained and how roles change. Parents become dependents, and children step into parental roles. Separation anxiety, guilt, and worry are ever-present when patients are placed in nursing facilities outside the home. Whole worlds are turned upside-down.
Admittedly, though, I didn't think much about the relationship my dad had with our pets or how the lack thereof could affect him. I didn't consider it at first, anyway, when seemingly a million medical terms, medications, and impossible decisions had taken the top seats on our priority list. The immediate tasks had to get settled and taken care of before it would hit me.
My dad leaving behind the place he loved
I moved back home with my dog and cat in tow more than a decade ago. Part of the reason was to help care for Daddy. He had a series of heart problems and strokes that had affected mostly his physical ability. He wasn't getting any younger either. Little did I know, that in 2016 we would first hear the word "dementia" being hurled at us in a tiny doctor's office.
A series of events that had happened both before and after that visit led us to make one of the hardest decisions I ever had to take part in. We had no other choice but for him to live outside the home. He had to leave the place he loved. He had to leave most of his things, the land he grew up on, his family, and his pets to go somewhere unfamiliar.
Finding a best friend in Layla
It was hard. A "fighting tooth and nail" kind of hard, but we hung in there. Daddy stayed with his sister for a while when insurance booby traps pinned us against a wall and work didn't allow us to stay home. It hit me at some point during that stay that we should take my dog, Layla, to see him.
By the time Daddy was diagnosed, I had been back home for years and he and Layla had grown to be big buddies. She followed him every time he went out on his four wheeler or walked down the road to the pasture gate. He had often laughed at the way she would bound through the fields like a deer. He bragged on her smarts and her rabbit-chasing ability. They had become old friends, and Daddy could really use an old friend.
Starting right where they left off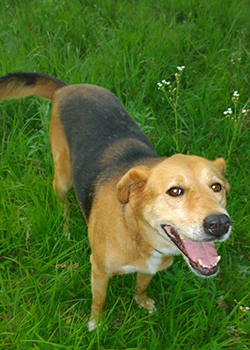 My aunt brought Daddy to meet us at a park midway between our houses. Layla and Daddy hadn't seen each other for months. Daddy's granddog was a little hesitant for a second, but Daddy recognized her instantly, mustering a "hey, girl!" She was so gentle with him as he held her face and talked to her. He had a lot to say to her in his best baby-talking voice. She listened intently. We didn't understand much of his jumbled sentences, but she did.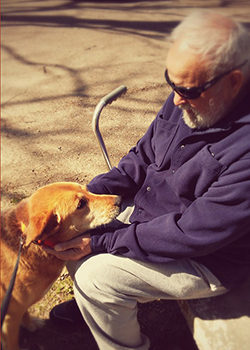 It didn't take him long to convince our girl that he was the same old guy. Before long, both were beaming. I'm pretty sure all of us were. For lack of a more appropriate expression, they absolutely lit up like Christmas trees. Both were so happy to see each other, and smiles spread across both of their faces. It was the happiest we'd seen Daddy in months. He needed an old friend who didn't expect a thing and still understood him.
Irreplaceable sparks of joy
This little experiment was such a success that it was repeated over the coming months. We hung out on my aunt's front porch with Layla when we would go visit Daddy while he was there. The memories of these happy days are something I wouldn't trade. These sparks of joy were irreplaceable. I only wish I had thought of it sooner. It didn't matter what else was going on. In those moments, he couldn't help but be happy. I feel like it did the old girl some good too. I know it did our hearts good. Maybe, just maybe, there really is something to that old "man's best friend" thing.
Pets can have such an impact on our lives. Tell us about your pet!
This article represents the opinions, thoughts, and experiences of the author; none of this content has been paid for by any advertiser. The AlzheimersDisease.net team does not recommend or endorse any products or treatments discussed herein. Learn more about how we maintain editorial integrity
here
.

Community Poll
Do you find legal and financial jargon in dementia care confusing?