Coloring Through Life with Alzheimer's
Last updated: September 2022
On July 27, 2022, I celebrated the third anniversary of my mom's passing. It was a day that was sad but also awfully amazing when I looked back on some of the things that were important to her.
As I hunted through a box of photos, I ran across her coloring books. I started to flip through them and got filled with such wonderful memories of her.
Coloring through Alzheimer's
My mom's name was Joan. She was an elementary school teacher and always loved the arts. She taught me to color when I was little. I found myself coloring again with her in my 30s. We colored through my dad's Alzheimer's and through her diagnosis as well. Then eventually, through my dad's passing and my mom's over 4-year battle with vulvar cancer.
As mom's cancer and dementia progressed, I felt bad because I never knew how much of her cancer diagnosis she fully understood. There were times she was very convincing to everyone around her that she knew what exactly was happening. Then I would be with her on the way home from the oncologist's office, and she would ask me why we were riding in the car.
Coloring was her meditation
Through all the life, health, and living situation changes, two things remained constant. My endless love for her and coloring.
When she was home, she was never far from her coloring books and her box of 72 colored Sharpie markers. Coloring was mom's meditation. In the beginning, my mom would color with crayons, colored pencils, or markers. For the last two years of her life, she only preferred using her Sharpie markers. I would sit back and just watch her get lost in her coloring. The constant repetitive motion and tactile experience put her in an ultimate state of calm. I truly believe it was her form of meditation.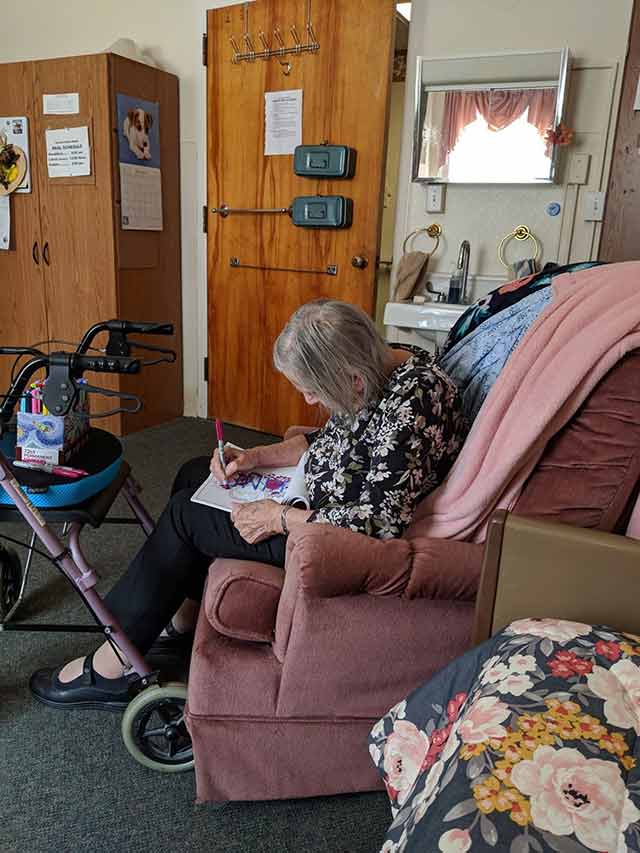 As the dementia and cancer began to ravish through mom's brain and body. Dementia would not always allow for the conversations I longed to have with her. We would often just enjoy each other's company, in silence at times.
However, things were different when we colored. I would sit next to her with a duplicate of the picture she had. We would simultaneously color the identical picture together. She absolutely loved when we did this. I now had entered into her world, even if only for an hour or two. It always amazed me how much her verbalizations increased when we were coloring. Despite how the disease impacted her brain when coloring, she was able to express herself.
Finding connection beyond words
My mom loved colors. She was the one who taught me about the connection between the two. Mom always told me that every color had a meaning: yellow = happy, blue = sad, red = angry, orange = excited, white = peaceful, and so on.
Again, these were just her interpretation of what colors meant to her and how they made her feel. I was an extremely shy girl, so my mom tried to use art, dance, and writing as outlets for me to express myself. I am very thankful to her for introducing colors and interweaving their emotional meanings from childhood.
Mom's last coloring
The month before mom passed, she had to move to the hospice wing of a nursing home. She did not fully understand why she had to move. Unfortunately, she just could not process how much care she needed and required. It was heart-wrenching for me to watch the decline.
The last picture she colored was symbolic to me. She colored a pair of sneakers using two different shades of blue. Mom made it clear to me by using the color blue that she was sad about her impending move. To the very end, she still communicated with me the best way she knew how, through color.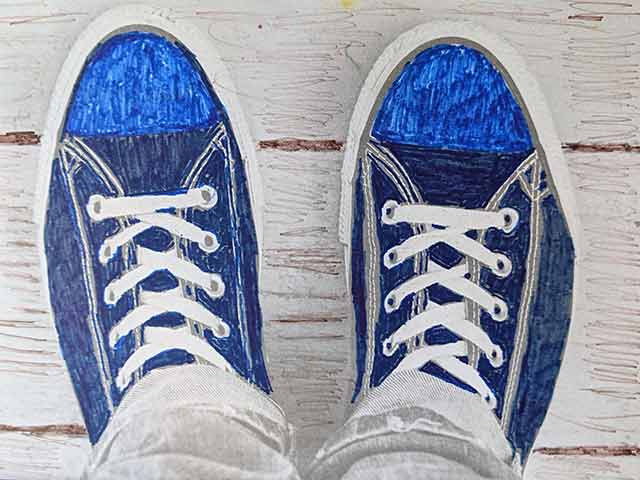 This article represents the opinions, thoughts, and experiences of the author; none of this content has been paid for by any advertiser. The AlzheimersDisease.net team does not recommend or endorse any products or treatments discussed herein. Learn more about how we maintain editorial integrity
here
.

Community Poll
Have you or your loved one been diagnosed with Mild cognitive impairment?